Put this Holiday Scam on Ice
Details

Written by

Tracy Scott

Category: Articles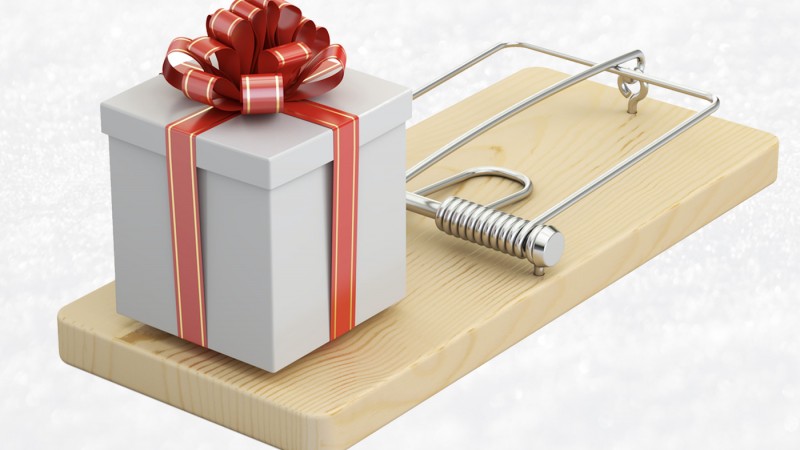 (Text Message)
Season's Greetings!
Sorry we missed you.
We tried to deliver a package to your address today, but no one was home.
Click this link or call us at 888.555.GIFT to reschedule the shipment.
Sincerely,
John at (well-known delivery service)
---
While the notice appears legitimate, responding to "John" could deliver a nasty surprise instead.
Oooh! I wonder who it's from! An unexpected holiday delivery could be a present from Nana, a sweepstakes prize, or a gift from a special someone. All you need to do is contact the service to reschedule the delivery.
While the notice appears legitimate, responding to "John" could deliver a nasty surprise instead.
Crooks misunderstand the gift-giving season. First, they think receiving is better than giving. Second, they think they should be able to gift themselves whatever they want — including other people's credit card numbers, bank account credentials, and other financial data.
With consumers caught up in the flurry of festivities, a missed delivery notification doesn't seem out of place. But naughty elves send fake messages via text or email, hoping you'll respond quickly with the requested information to reschedule a delivery from a trusted shipping company.
If you click the hyperlink or call the phone number provided by the con artist, you'll find there's a fee to re-deliver the package. Just say, "Ho-Ho-NO!" Even if you refuse to pay, clicking a link that leads to a lookalike website might unleash malware that tracks keystrokes when you later log in to your online banking portal. Fraudsters can then use that information to access your account, change your password, and transfer your funds to their own external bank account.
Protect Yourself from Holiday Delivery Scams
Put coal in the stockings of scammers attempting to steal sensitive data this season. Follow these tips to avoid holiday delivery scams:
View unexpected delivery notifications with a healthy dose of skepticism.

Contact the shipping company's official customer service line to confirm missed deliveries.

Read what FedEx®, United States Postal Service (USPS®), and UPS® wants you to know about fraudsters who use their brands to commit this scam.

Use your workplace as your shipping address, so you're less likely to miss a legitimate delivery.
Do You Suspect a Holiday Delivery Scam?
Report a suspected holiday delivery scam to the company the scammer claims to represent. For example, if the crook uses USPS® logos, notify USPS® using the fraud notification number on their website. You can also report this not so merry sham to the Federal Trade Commission. They collect data on fraud schemes and work with local law enforcement to put an end to shenanigans all year round.